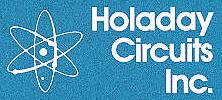 Quality Printed Circuit Boards
---
Welcome to the Holaday Web Pages!
We specialize in producing quality circuit boards to your exact specifications. Our highly trained staff of manufacturing engineers will work with you closely to lower your costs and improve the reliability of your circuit boards.
To streamline the transfer of circuit board information from your designers to our manufacturing engineers, we have implemented a secure electronic mailbox. We can accept RFPs, RFQs, Gerber Files, and STEP Files directly from your computer.
We are ISO 9000 certified to serve you better. We look forward to surprising you with our low cost and high quality!
Contents
IMPORTANT NOTICE TO THE GENERAL PUBLIC
Send mail to Georgia Tech Engineering Information Systems Researchers with questions or comments about this web site.
Copyright © 1996 - 1998 Georgia Institute of Technology. All rights reserved.
Last modified: June 15, 1998