<! text comes from master overview in p:\eislab >

This is the original EIS Lab website as of c.2004 plus some updates with recent publications. See the Modeling & Simulation (MSL) website (www.msl.gatech.edu) for ongoing related work and further information about this EIS Lab website and its disposition.
---
The Engineering Information Systems Lab (EIS Lab) conducts research and development in the information-intensive aspects of engineering. While traditional engineering models focus separately on aspects like design and analysis, integrated product models are increasingly needed in modern practice. Thus we are creating better computational representations of engineering models to facilitate processes like collaborative simulation-based design (SBD), integrated analysis, and advanced information-driven manufacturing. Industry projects include aerospace, automotive, construction, and electronics applications. A major thrust is X-analysis integration (XAI)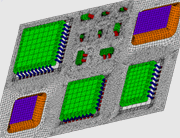 - how to associate analysis models with other product life cycle models - with an emphasis on CAD-CAE integration as needed for SBD and virtual prototyping. Other topics include product modeling, product change management, optimization, multi-media engineering databases, and artificial intelligence. Tool development and consulting services are also available via the Georgia Tech Research Corporation.
EIS Lab is part of the Woodruff School of Mechanical Engineering. It was initiated in 1996, and until 2001 it was also part of the CALS Technology Center where it collaborated with the U. S. Dept. of Defense-sponsored Atlanta Electronic Commerce Resource Center (ECRC).
Comments and inquiries are welcome! Send us email if you would like to keep abreast of our latest activities.